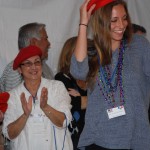 March 1st was a day for thirty-two young adults to remember as they were selected to travel this coming summer to one of Tempe's sister cities. The selection process was a rigorous set of group and individual interviews that students were able to demonstrate their aptitude for being successful delegates and exceptional
representatives of Tempe. These students are part of a group of 777 students that have been exchanged through Tempe Sister Cities since the first exchange in 1972. The first exchange was to our sister city, Skopje, Yugoslavia, now Macedonia. The four students, David Wynn, Cathy Givins, Carolyn Shumway, and Jan Alexander were invited as special guests to all of this past year's Oktoberfest celebrations. This reunion has prompted interest in another exchange to Macedonia for the original four delegates.
(Above)New French Delegate, Olivia Van Vleet dons her beret as Coordinators, Olivia Valdez and Dennis Ederer congratulate her on her selection.
To Read all of the Articles contained in the TSC Monthly Newsletter go to our website www.tempesistercities.org and select Publications/Newsletters.