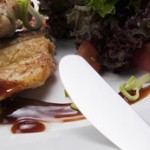 2013 Spring Dinner Party Cooking Classes
MARCH 25th, Monday
Chef, Mario Vincitorio,
OWNER /CHEF OF Vincitorio's
Mario will share his "real" Italian World with: Fresh, tossed Green Salad,
Home-Made Butternut Squash Ravioli Bananas Foster.
To Register for Classes, Call (480)350-8181
or visit

www.hacketthouse.org


Gift shopping and Complimentary Wine Bar begin at 6 p.m. Classes at 6:30 p.m. Class prices: $50 per person OR $175 for your choice of four out of the five events; $220 for all five events.
Prepaid reservations, Cancellations must be received 48 hours in advance. (Refunds will be in the form of gift shop credit. Non-transferable).
APRIL 9th, Tuesday
Chef Kim Lahn,
Kim is featuring Peruvian-inspired dishes.
Papa a la Huancaina (Potatoes served with a spicy, creamy cheesy sauce)
Ensalada con Ceviche (Peruvian Style Ceviche Salad)
Seco de Portobello (Peruvian Portobello Stew over Roasted Garlic Yucca Root Mash) Picarones with Chancaca Syrup (Traditional Peruvian Squash Beignets)
April 23rd, Tuesday
Kathy Andrews, Culinary hobbyist,
Join her as she cooks and her husband Gale complements each course with wines, Quinoa Arugula Salad
Artichoke Bisque with Crab Timbale
Slow-roasted Beef Short Ribs over Polenta,
Butterflied Shrimp on Pesto-drizzled Crostini,
Potato Pave drizzled with herb butter
Chocolate Mousse Towers
April 30th, Tuesday
Chef Jose Soto & Chris Cosper,
of the Tempe Garcia's (Warner) Restaurant
Discover the flavors of food coming to life.
Table platters of Flautas,
Poco Chimis, Espinaca (Spinach) con Queso,
Cheese Quesadilla, and Guacamole
Carnitas Soft Taco (slow cooked pork)
Tampico Chicken
(Grilled, marinated chicken breast stuffed with jalapeno cream cheese) Traditional rice and refried beans
Deep Fried Ice Cream
Great Food…Great Friends…Great Cause
All Proceeds Benefit Tempe Sister Cities CommumityPrograms