… Are you ready for the summer of a lifetime?
PROGRAM OVERVIEW
The TSC student exchange program is open to residents of the city of Tempe who are juniors during the 2022-2023 academic year. Learn more about whether or not you qualify for the program toward the bottom of this page.
Engage in cross-cultural exchange with like-minded peers in cities around the world
Be part of the more than 1000 Tempe high school students have participated in the Tempe Sister Cities student exchange!
Gain experiences and build friendships that will last a lifetime!
FIRST, YOU TRAVEL TO ONE OF TEMPE'S SISTER CITIES
Tempe students are home hosted with the family of their paired international brother or sister
Each student is matched with a family who is enthusiastic about cultural exchange and friendship-building. Participants will move in with their new host sister or brother and experience all aspects of the culture first hand: family meals, chores, outings, traditions, parties, activities, responsibilities—You name it!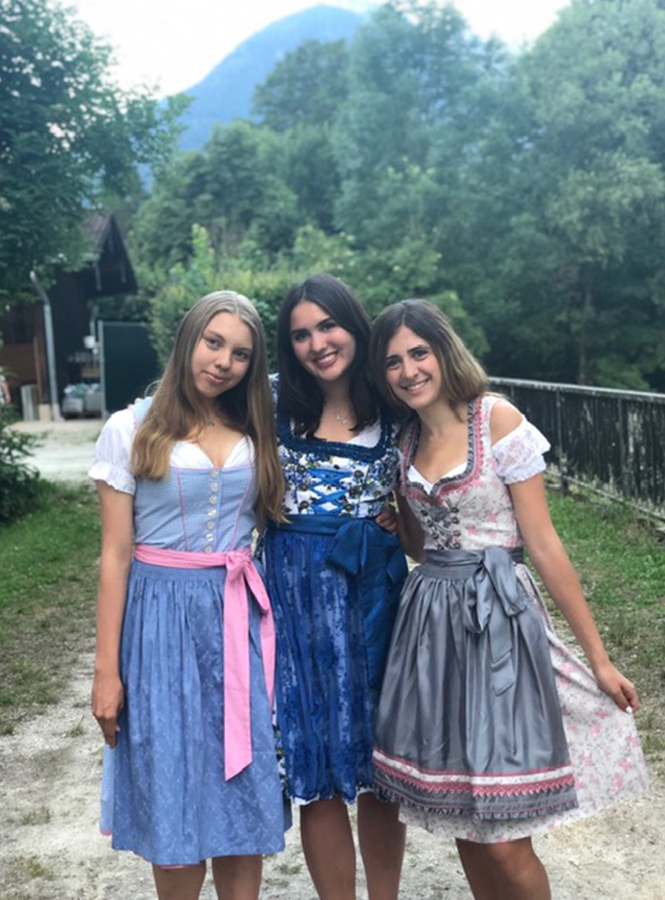 All of the students will have the opportunity to acclimate to their host countries, sightsee and build relationships with their host families
The Tempe Sister City Selection Committee places students in the country they believe to be the best fit for the student's summer abroad.
Which of our sister cities would you look forward to the most? Here a little bit about each of your potential 2023 destinations:
Visit Tempe's oldest sister city, Skopje, Republic of North Macedonia, to experience Eastern Europe after the fall of the Iron Curtain.
Travel to Zhenjiang, China, Tempe's largest sister city with more than a million people, which means lots of chances to make friends!
Experience Regensburg, Germany to explore Romanesque and Gothic architecture and meet our German counterparts at the Regensburg-Tempe Friendship Club.
Venture to the beautiful French Riveria, staying in Beaulieu sur Mer, France, and brush up on your French where European royals once vacationed.
Explore Carlow, Ireland, the first electrified city in the British isles and home to a thriving university culture.
Head "down under" to visit Lower Hutt, New Zealand, and have the opportunity to see some of the beautiful coastal country, the capital city of Wellington and visit sites from the filming of the Lord of the Rings Trilogy and other movies made in the region.
Experience the one and only Cusco, Peru, the historic capital of the Incan empire and cross Machu Picchu off your bucket list!.
Fly south to the UNESCO World Heritage Trust Site of Cuenca, Ecuador, Tempe's newest sister city teeming with living history.
Journey to Trollhattan, Sweden, one of our newest relationships, to experience life with a Swedish family, see local sites such as Lake Vanem and perhaps visit the SAAB factory.
Costs to the students and their families are kept to a minimum.
Tempe Sister Cities organization covers all of the travel expenses, and host families will provide housing. Students need to furnish their own spending money for their time abroad, and families should budget to host an extra teenager for five weeks in July and August.
Tempe Sister Cities will host fundraising events in collaboration with selected students' parents to reduce the cost of hosting.
NEXT, YOU AND YOUR FAMILY HOST YOUR FOREIGN BROTHER/SISTER
The second half of the summer is when our student delegates get to host their brother or sister in Arizona. The task is easier than it sounds because Arizona is like no place else on earth! Arizona is an international destination as evidenced by the 43 million yearly visitors and healthy $21 billion dollar tourism industry. Your foreign brother or sister is excited to experience the United States, the southwest, and to experience everything that you show them.
ARE YOU READY FOR THE SUMMER OF A LIFETIME?
If you can answer "yes" to all of these questions, then you are an ideal candidate for the Tempe Sister Cities Student Exchange Program.
Are you a United States citizen?
Do you live in Tempe?
Are you currently a high school junior?
Did you pass your physical? Will your doctor say you're in good health?
Will you be living in Tempe for your entire senior year of high school?
Do you want to spend five weeks of summer living in a new place, meeting new people, and experiencing new things?
Are your parents willing to let you go abroad for five weeks and then host an exchange student for five weeks when you return?
Will you and your parents be free to participate in all exchange activities while your host sibling is in Tempe?
Are your parents willing to help fundraise by assisting with Tempe Sister Cities activities like Oktoberfest and those at Hackett House?
Are you a member of the Tempe Sister Cities Organization? If not, would your family join Tempe Sister Cities for just $35?
The 2022/2023 Applications are due by January 29th, 2023 at 5:00pm
The application process is straightforward and we encourage all interested and eligible high school juniors to apply. Application time periods are updated each Fall to allow students to plan for the process and submit their information timely.
Your first step will be to fill out the Tempe Sister Cities Student Exchange Application and Information Forms.
Click here for the Student Selection Information & Application
After reviewing your submission, we will contact you with information on participating in our group and one-on-one interview sessions.
Decisions are finalized by the Tempe Sister Cities Student Exchange Selection Committee and the students are notified in March.
For more information, please contact our Tempe Sister Cities Selection Committee Chair via the contact form below.
We look forward to hearing from you.
Due to the unprecedented circumstances surrounding COVID 19,international travel in the summer of 2023 is not guaranteed. Our board will continue to closely monitor the situation from reliable sources to determine if travel is safe and feasible. Student exchanges provide opportunities to make new friends, share cultural perspectives, practice critical 21st century language skills, and to build connections around the world. In addition, being selected as a delegate, includes the honor of serving as an ambassador for Tempe and the United States and the benefits of building a strong college resume.