Traveling to New Zealand this past summer was a life changing experience that I will never forget. New Zealand is a beautiful and unique country filled with some of the nicest people I have ever met. I met so many wonderful people and had so many amazing experiences there that it is hard for me to choose only a few to write about! However, as a social studies teacher, I was most interested in just experiencing the culture of the country and the history of the islands. I wanted to experience the food, the language, the customs, the history, politics, music, and anything else I could squeeze in! And I think I was able to accomplish that as I toured schools and museums and participated in other local activities while I was there. But what stuck out to me the most was how much New Zealanders seemed to appreciate their own history, heritage and culture and also embraced and promoted the diversity within their country today.
As a history teacher, I am very familiar with how some countries, like the United States and Australia, have dealt with and interacted with their Native populations over the course of their history, and I was very interested to learn more about what this relationship looked like in New Zealand.

At all of the schools I visited there were high populations of native Maori students, along with other Polynesian students, and at each of the schools, I saw clear and deliberate efforts to allow students to not only learn about but proudly share and promote their native heritage. This includes Maori culture and also the other diverse Polynesian cultures. This was reflected in the offering of Maori language classes at schools, allowing elements of Maori dress in the school dress codes, and clubs and festivals where students participated in native dances and performances.

I attended an event called Hutt Fest. This was an event that lasted several nights and consisted of performances by kids of all ages from different schools all over Lower and Upper Hutt. They performed native dances and songs to celebrate their culture and heritage, and it was absolutely amazing to see! Each show was sold out and jam packed, as the entire community came out to support this event. This was just one of the events I saw celebrating their diversity. I saw other performances at schools and met with several teachers who all were filling roles that involved teaching and preserving Maori and other Polynesian cultures on the islands.

However, it was not just Maori heritage being celebrated. I was also able to attend a retirement party for a beloved principal at the school I was touring, and the principal had Scottish heritage. To celebrate this, a whole Scottish celebration of the haggis was performed by the teachers of the school, performed in a school on the other side of the planet from Scotland.
Additionally, I was asked multiple times about my own heritage and found that most people were a little unhappy with my response, as I said I was simply "American." My family has been in the States for too long and too many generations for me to actually consider myself "German," but there in New Zealand that connection was important and emphasized. I was extremely impressed with how important and celebrated diversity was in this small country.

I had many other memorable experiences while visiting New Zealand, including "tramping" through some beautiful hills and some of the most breathtaking scenery I have ever witnessed, visiting museums, visiting a real Maori village, going for a swing off the side of a mountain (at a theme park, safely strapped in!), touring a bird sanctuary, and even running a 10k through the city of Wellington. But I also enjoyed simply interacting with people on a daily basis, learning about how they lived their lives and what was important to them. These are the experiences I will treasure most from my trip.
Lori Finds New Zealand Amazing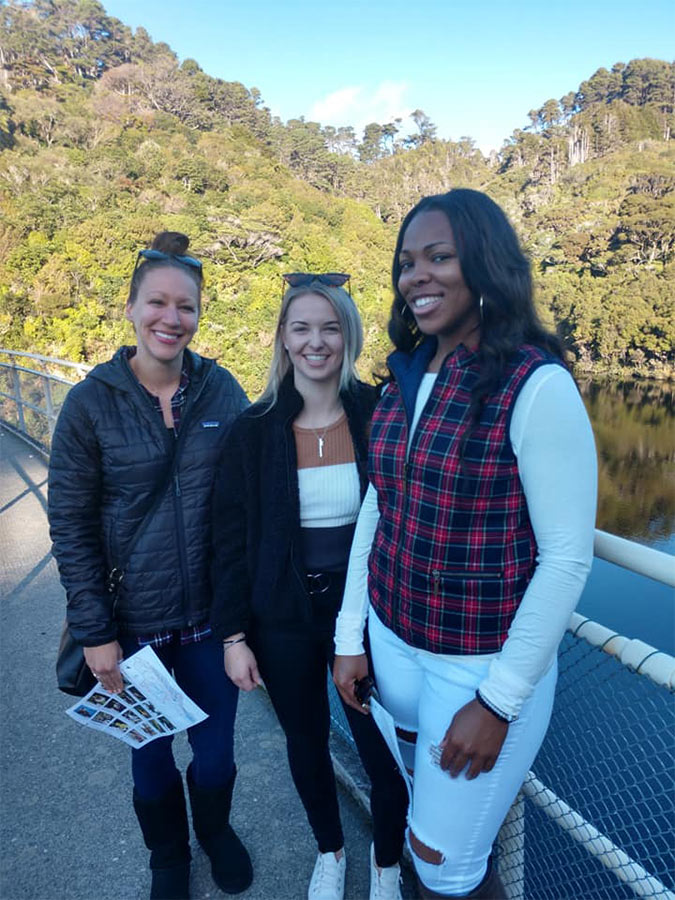 In July 2019, I had the privilege of being selected to go to New Zealand for the Educator Exchange program with Tempe Sister Cities. When I first considered applying for this opportunity, I have to admit that I was apprehensive, as it sounded too good to be true.
After being notified that I would be traveling overseas during the summer, I had a mixture of feelings: excitement and nervousness. I was excited, as I would be able to participate in this amazing opportunity and truly be emerged in another culture and lifestyle, something, I had never been able to do up until this point. I was nervous, because I was scared and worried. I wondered if I would be homesick for my friends and family during my stay for almost a month, and I even wondered if I would get along with my host family. After many pep talks from past delegates and my family and friends and after months of planning later. my fears were put to rest. I was set to leave for NZ with my exchange partner.
Going to New Zealand was by far the best professional development and learning experience I have had as an educator. I would recommend it to anyone who is offered this opportunity. None of my previous travel experiences, which are extensive, can compare to the teacher exchange program. As I lived and worked side by side with a teacher from Lower Hutt, I was able to go to over eight schools and see a variety of teaching strategies, some of which I absolutely loved and am currently using. For example, I observed a primary school teacher relating events that interested her students while they were engaged in learning stations and interacting with their peers. I noticed that the students did more talking than she did. The students were constantly moving and engaging with one another, which I thought was wonderful, as lectures were not her "go-to" in teaching.
Among schools I visited were Fernlea, Wainuiomata Primary School, Hutt Secondary, The University, and an alternative placement for 9-12 students. Most of these resembled schools here in the states. Something that surprised me and that everyone seemed to respect, was tea time. It was comparable to recess, but the students played and went outside with limited adult supervision. In the states, we never leave all of our kids without the supervision of an adult. However, during the 15-20 minute tea time, the staff got together collectively and was able to team and chat while the students played outside with few disagreements. To me, it was amazing to see students play without needing an adult to intervene.
My stay in New Zealand was amazing, and many of my experiences are hard to put into words. In Taupo, I went on a luge, a ski lift and did bungee jumping. Meeting with the mayor of Lower Hutt was an honor, and shopping and dining were enjoyable. My stay at the home of my Kiwi partner teacher couldn't have been more enjoyable. Kasey Bircham and her parents, brother and nephew welcomed me warmly and also introduced me to other extended family.
The educator exchange enabled me to be fully immersed in a cultural experience, something I had never done before. If you have a passion for education, learning, and traveling, this program is something I strongly encourage you to consider. I have made life long friends and family from this exchange and truly had a great time!
This experience showed me that regardless of where you are, kids are kids and want to learn and be taught. Other teachers experience many of the same struggles and questions I have as an educator as well. It was refreshing to be able to talk to students and teachers from a different background and to collaborate with them, as this is something we don't always have time for in our home setting.